We know that you spend a lot of time writing proposals. And while we may not have influence over the process or the grant makers, we do have over 58,000 stories from Kenya and Uganda we collected last year as part of the Global Giving Storytelling Project (www.globalgiving.org/stories).
We are currently testing our newest effort in the Storytelling project; the Story Analysis Tool. The tool offers a simple user interface that provides actionable answers to your organization using our large collection of stories. From this information you can gain insights the root causes of problems you are trying to solve in each community and provide valuable evidence from an unbiased source in grant writing.
The Tool:
The Story Analysis tool allows your organization to select a specific subgroup of over 58,000 stories on literally anything, starting with a text search...
... And then you can sub-select stories by their Meta characteristics (impact, outcome, demographics, org, region, topics related, and story perspective):
The results are meant to be both simple visual summaries of who and what, as well as powerful parsing tools for extracting the raw data for further analysis by orgs: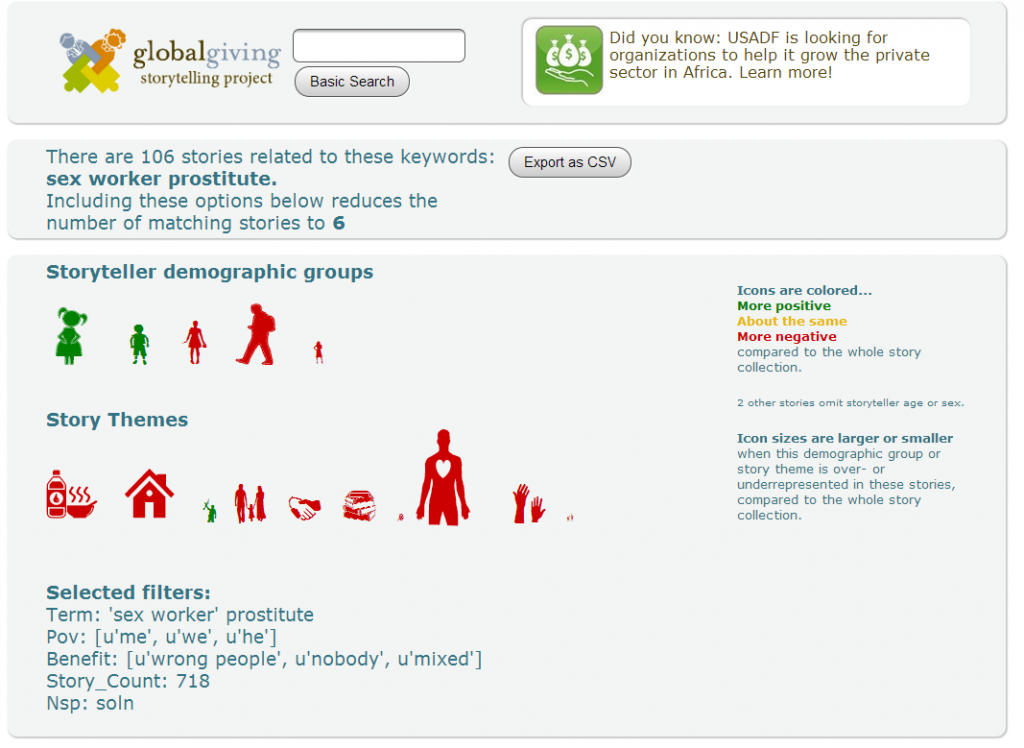 This summary (above) shows that stories about sex workers tend to be told by girls under 16 and men 23-30, but those from girls are more positive in tone than the ones told by men. Each of the topics tends to be negative-toned, and stories related to self-esteem are over-represented.
Need evidence for a grant proposal? Want to discover trends in your area? Want to benchmark your performance with that of other organizations?
With the ability to search literally anything and use our filters, the tool can offer you actionable summaries, like the one above, on topics relevant to your organization.
GlobalGiving will be offering calls to instruct you and your organization on how to use this new tool. For this opportunity and more information please contact: abman@oxy.edu.
Not interested in a call? Want to explore the tool on your own? Click here:www.djotjog.com/search/?ref=kabissa
Stay tuned for future blog posts about how this Story Analysis Tool can help answer key questions for your organization!